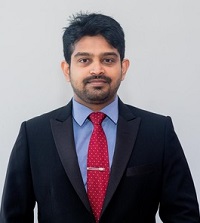 Mr. A.M.N.M. Gangananda
Lecturer – Temporary
BBM (Uva Wellassa)
Email : namalgangananda@gmail.com
Office : +94 553 128 943
Reading for the Masters in Business Administration at Staffordshire University of United Kingdom.
Special degree in Bachelor of Business Management in Hospitality, Tourism and Events Management at Uva Wellassa University of Sri Lanka.
Completed Postgraduate Diploma in Professional Marketing at Chartered Institute of Marketing (CIM) United Kingdom.
Completed Postgraduate Diploma in Marketing at Sri Lanka Institute of Marketing (SLIM).
Hospiality and tourism
Marketing
Full Paper Publication
Gangananda, A.M.N.M., Bandara, W.M.A.H., Perera,L.A.P.C., Pattiyagedara, P.G.S.S., (2021) Examining the effect of social media on online reputation management of hotels: A special reference to down south during COVID 19 pandemic. 6th International conference on Contemporary Management of University of Jaffna.
WMAH, B., & AMNM, G. (2021). The Effect of Undergraduates' Perception on Career Selection in Tourism and Hospitality Industry. Available at SSRN 3823727.
Ranasinghe, R., Gangananda, N., Bandara, A., & Perera, P. (2021). Role of Tourism in the Global Economy: The Past, Present and Future. Journal of Management and Tourism Research, 4(1).
Abstract Publications
Gangananda, A.M.N.M., Herath, H.M.W.M., Wijesundara, W.G.S.R (2017). Type of Brand Image CSR (Corporate Social Responsibility) Activities of Hotels (With special reference to the local community established around Hotels in Galle and Kandy Districts). Proceedings of International Research Symposium of Uva Wellassa University of Sri Lanka.pp.105.